Fine Food Australia set to inspire with innovative activations
New interactive innovations and technology will be showcased to visitors this year at Fine Food Australia by the 2023 major sponsors.
The event, held at Sydney's ICC over two exhibition floors from 11-14 September, will be supported by platinum sponsor MILKLAB, major sponsors Mayers and Square Australia, as well as strategic partner and major sponsor Investment NSW on behalf of NSW Government.
"We are proud to work with leading partners to ensure our event has the latest and greatest in food industry innovation each year," said event manager, Andrew Lawson. "We are excited to be working with this year's partners and continuing to grow our network to deliver the best Fine Food Australia show yet."
MILKLAB – unique coffee laneway experience
This year MILKLAB, producers of plant-based and dairy barista milks, will be launching a new experience inspired by the Melbourne urban coffee culture – a collaboration with baristas for their new Made With. Made For. Baristas campaign – 'MILKLAB Lane'.
"Reminiscent of the streets of Melbourne, our new-look stand incorporates exterior, hole-in-the-wall style cafes and funky coffee carts which will encourage people to explore and discover the 'laneways of MILKLAB,'" said MILKLAB marketing manager, Natalie Latimore. "Here visitors can enjoy a unique and exciting coffee experience that showcases perfect pairings and highlights tasting notes of the MILKLAB range."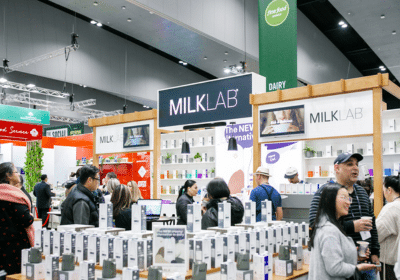 Ms Latimore said the stand has been made with sustainable materials including SaveBoard – low carbon building materials made from upcycled Tetra packaging. It will be finished off with custom street signs, faux-shop fronts and festoon lighting ensuring a vibrant, inviting and warm set-up.
"We are excited to partner with Fine Food Australia for another year as they provide an unparalleled platform for us to connect and collaborate with our customers which is what the MILKLAB brand has been built on." 
Mayers – demonstrations with leading pastry chefs
As sponsor of the Mayers Innovation in Patisserie Stage, Mayers products will be utilised in daily demonstrations in partnership with Vanrooy Machinery. Leading pastry chefs will conduct masterclasses on desserts, cakes and more.
"We value our customers and product knowledge is key, so we like to give back to industry, our community and market by supporting free demonstrations from highly qualified, skilled professionals," said Kiara Diestro, Mayers National Event Manager.
"Every year we receive great feedback and enjoy working with the team at Vanrooy to bring Fine Food a fantastic schedule. This year we have Ryan Stevenson, a highly qualified chocolatier and Australian born pastry chef who is the Former Head of Callebaut Chocolate Academy in Belgium which is really exciting." 
Mayers is an importer and national Australian distributor of over 1000 premium gourmet food products, and this year at their stand, they will be showcasing their full chocolate, patisserie and bakery product range with a dedicated space to La Rose Noire premium products. The stand will be the largest one Mayers has staged over a 10-year span of exhibiting at the show.
"Our Illy Coffee team and S.Pellegrino team are also partnering up with a stand in the coffee area sampling these premium brands for visitors to try and to learn about on site," says Ms Diestro. "We also have S.Pellegrino on board to sponsor our stage with water for chefs and for each person watching demonstrations."
Square Australia – showcasing the best in new technology
This year Square Australia will be sponsoring new presentation series Talking Tech which will delve deep into the influences, opportunities, and advancements in the world of hospitality tech.
At the Square stand, the team will be demonstrating how its iconic hardware and intuitive software takes some of the chaos out of running a restaurant.
Visitors will see how Square for Restaurants mobile POS makes wait-staff more efficient by allowing them to take orders and payments all from one device, giving them more time to delight customers. Square will also be showcasing its Kitchen Display System that creates a seamless connection between front and back of house.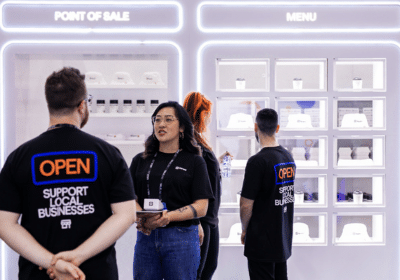 Alongside that, Square staff will be sharing how its complete suite of software – from loyalty programs, to team management online stores, to email marketing – is helping restaurants across Australia and the world build resilience and unlock growth.
"The hospitality industry has endured a tough few years, but along the way its continued to show creativity, innovation, and resilience," said Jean Magalhães, Senior Product Marketing Manager, Square for Restaurants.
"We're delighted to be a part of Fine Food Australia again in 2023, showcasing a number of our sellers who have used our technology to automate their operations, build new revenue streams and grow. We are looking forward to sharing tangible insights into how other restaurants, cafes, and hospitality businesses can do the same."
You can register free for Fine Food Australia here