Where's the most important meal of the day heading?
Restaurants are moving further and further away from the meat-and-three-veg formula, so why do most cafes remain in the warm embrace of eggs on toast? Foodservice News' Aleksandra Bliszczyk talks to the chefs and restaurateurs behind some of Sydney's best cafes – those that are breaking the breakfast mould, and those that put classics on a pedestal – to find out where the most important meal of the day is heading.
Written by Foodservice Magazine.
In 1894, a Wall Street stockbroker named Lemuel Benedict walked into the Waldorf Hotel one morning, asking the waiters for something to cure his hangover. The chef plonked a poached egg on some smoked cut of pig, drowned it in Hollandaise and called it Eggs Benedict. 125 years later, the dish has barely changed, and neither have our morning appetites.
"People's tastes are changing, but breakfast tastes are just changing a bit slower," says chef and co-owner of Three Blue Ducks cafe Andy Allen. "Mornings are hard – you just want to be comforted with your first meal of the day, and for a lot of people that comfort comes from food they've grown up eating."
The pool of Australian restaurants that stick to the meat-and-three-veg model at dinner is shrinking, but the number of cafes slinging towering Eggs Benedict, beautiful smashed avos, and edible-flower laden mueslis is only growing.
"If we didn't serve some form of the classics, I don't think we would still be open," says Allen about Three Blue Ducks, which has locations in Bronte, Rosebery, Byron Bay and Brisbane. "As much as sometimes I'd love to scrap poached eggs on toast, the punters have always wanted them and they will continue to get them. We actually tried it for a few months in Rosebery – no poached eggs on our brekky menu. It's fair to say that nearly 75 per cent of tables were like, 'where's the poached eggs?' The truth is, people love a classic brekky and I don't see that changing anytime soon."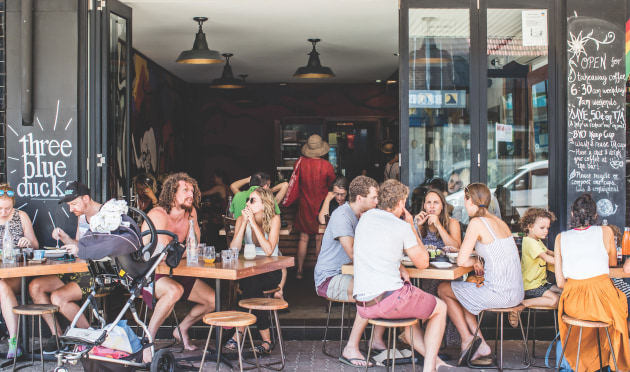 Eggs have been eaten for breakfast by all classes of western society for as long as we've been using forks – roughly 300 years. Back then it was logical to cook eggs in the morning, after the farmer collected them fresh. But Breakfast: The Meal wasn't a formalised part of society until the Industrial Revolution, when workers needed a hefty serve of long-lasting energy in the forms of protein and carbohydrates before slogging it out in a factory for 15 hours. Ergo, eggs on toast.
Another Aussie cafe regular, Bircher muesli, was invented by a Swiss doctor in 1900 who wanted to ensure his hospital patients had enough vitamins in their diets. The popularisation of national icon smashed avo is credited to chef and prolific restaurateur Bill Granger, who put it on his menu at Sydney cafe Bills in 1993. These classics have seen innumerable adaptations, but are still fundamentally the same as they were at their inceptions.
At Palisa Anderson's Thai diner Boon Cafe in Haymarket, smashed avo is spiked with fish sauce. On the morning menu, Anderson crosses traditional food from northern Thailand (where her mother grew up), with western elements. During the day, sai ua, a housemade lemongrass and pork sausage, is sandwiched in sourdough bread with herb salad and a boiled egg. But despite the several familiar western breakfast cues, Boon also introduces diners to pan-Asian breakfast stalwarts like congee and beef broth.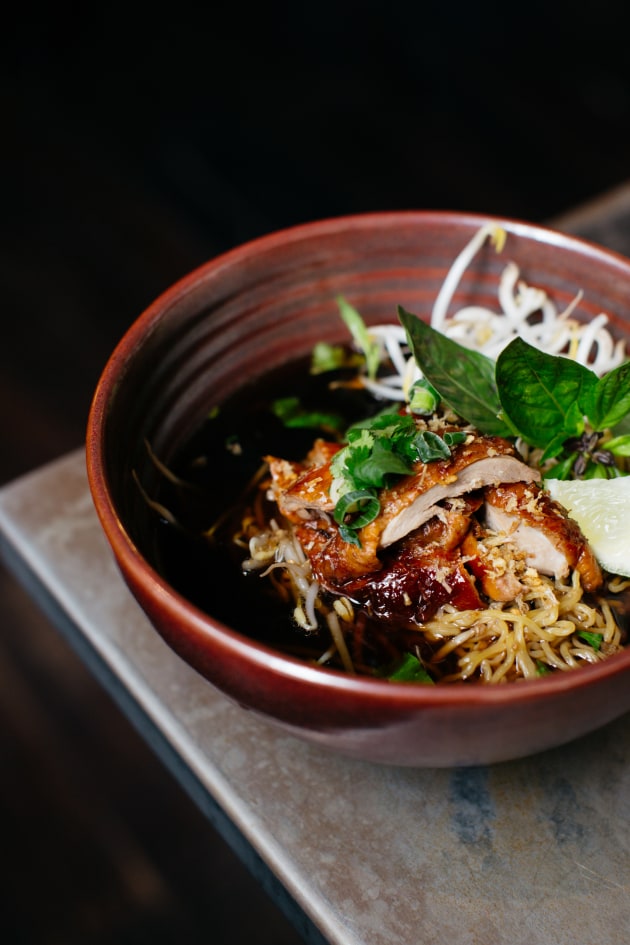 Anderson says breakfast-dining culture in Australia is entirely different to most countries around the world.
"There's a culture of rising early [in South East Asia]. You go to Thailand and everyone's up early because everyone has to make a living. Workers are up and they eat something really fast on the go," says Anderson, and rising earlier means more demand for variety earlier. "The idea of having a broth for breakfast seems really radical here but it's actually not, Asians have been doing that forever."
Sydneysiders gladly slurp Vietnamese pho, Thai khao soi or Sichuan hot pot for dinner, but few are in the habit of branching out to non-western cuisines for breakfast.
Breakfast dining has become a luxury commodity in Australia, not just the quick source of protein once depended upon to start a strenuous day. Diners in capital cities are lucky to have access to beautiful food of countless cuisines – in Sydney's inner-city suburb of Haymarket alone, you'll find some of the city's best Cantonese, Nepalese and Malaysian food, just a few steps apart.
While this globalisation of flavour has swept all levels of casual to fine dining, breakfast is still the least culturally-diverse meal of the day.
But that doesn't mean the meal is stagnant; tastes are changing as Allen said, but slowly. Japanese is perhaps the first Asian cuisine to gain a foothold.
Sydney's Devon Cafe's most popular menu item is not eggs and bacon, but a dish combining seared salmon, miso, koshihikari rice and egg, inspired by a breakfast dish that owner Zachary Tan ate in Japan.
"Some people just do not want to play roulette with their breakfast choices," says Tan. But the cafe, which opened in 2013, has been pushing breakfast outside of its conventions from the get-go.
One classic, French toast, is almost unrecognisable here, with cardamom diplomat, citrus fruits, yoghurt parfait, and sorrel and basil water. Another dish, comfortably named the "naked bruschetta", is burrata draped with straps of raw and cooked zucchini, broad beans, peas, mint and topped with shaved parmesan, jamon and Spanish pickled chilli.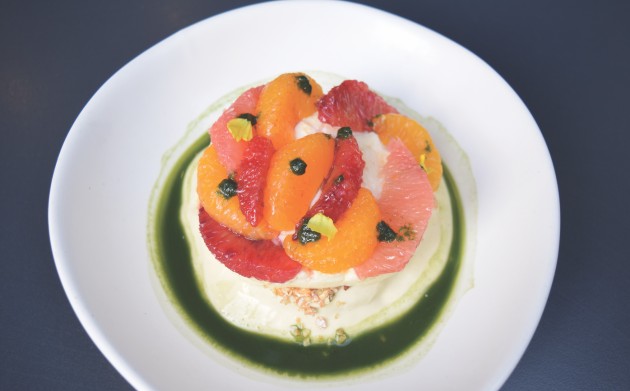 Harry Kolotas, head chef and co-owner of one-year-old Sydney cafe and restaurant Cavalier 2.0, believes that the evergreen-ness of typical breakfast food is equal parts habit and comfort. "If you go too crazy it puts people off," he says.
"That's the challenge with a good brekky menu," adds Allen, "you have to toe the line with a couple of the classics done really well, but you also need to continue progressing and evolving."
Breakfast dishes on eat-in menus around the country are often segregated not only by sweet and savoury, but also health factor, catering to both those who want crisp, salty, saucy hits, and those who want to start their days with vitamin-rich, palate-refreshing, Instagrammable chia seed puddings. Dishes usually sit in one of the two camps, with little ambiguity as to their allegiance.
Cavalier 2.0 aims to redefine the ubiquitous cafe menu. The all-day diner's menu cuts down the walls between morning and night, and casual and fine dining, with dishes like beef cheeks, and passionfruit tiramisu hitting the tables in daylight hours.
Kolotas says diners are generally quite shocked when they read his menu, but it's written in a way that the more approachable elements are listed first, to gently introduce people to a less-conventional dish. While eggs are still the most-ordered, Kolotas hides his "crazy" cooking techniques in the guise of names like the "tradie roll".
(After all, a successful menu under promises but over delivers.)
"Instead of frying bacon we make a salt out of rendered pork belly and that is our bacon element of the egg-and-bacon roll, which is paired with our French-style dressing and pickles. It tastes better than the original," he says.
While Allen says Australia "will never give up" eggs on toast, a new generation of diners seeking new experiences is giving chefs room to play.
The key, it seems, is to not be didactic in your cooking. Introduce flair to your fare gently; experiment with techniques, non-western flavours and non-breakfast standards one dish at a time, and slowly the tide will change.
This article was first published in foodservice's February 2019 issue. 
To keep up to date with food industry news and Fine Food Australia updates, subscribe here.