Meet the Aussie chef responsible for maintaining Gordon Ramsay's three Michelin stars
Matt Abé is no stranger to pressure as the chef responsible for maintaining Gordon Ramsay's three Michelin stars. 
Now the Sydney born-and-bred Chef Patron at the world-famous Restaurant Gordon Ramsay faces a whole new challenge – an expectant home crowd. 
Abé will cook a selection of Ramsay's menu in the restaurant's first residency outside London. For three nights only, Abé will take over Matt Moran's two-hatted Aria, the kitchen where his cooking career began at the age of 17. 
Bit of pressure? On the contrary. 
The 38-year-old chef is famously cool in high pressure kitchens, telling Fine Food Australia he can't wait to cook in his hometown. Abé will cook dishes from the London menu, curated by both Ramsay and Moran with Australian ingredients. Each of the three dinners sold out in minutes, priced at $495pp for seven courses, with optional wine matches for $295. 
Q: What can guests expect at your Aria dinners? 
A world class menu, created with the phenomenal Australian produce highlighting the season. 
Q: Give us a hint… which dishes from Restaurant Gordon Ramsay will make it onto the menu at Aria?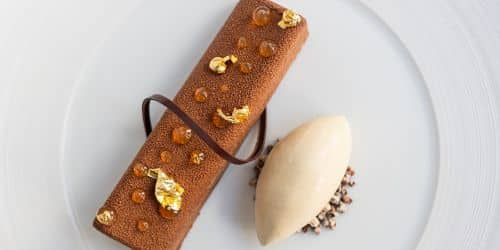 I will be creating an interpretation of Gordon's signature lobster, salmon, and langoustine ravioli. I will also be showcasing my signature dessert pecan praline parfait with Pedro Ximénez and cocoa nib ice cream. And more, of course.
What Australian ingredients will you be cooking? 
I'll be switching lobster to marron, langoustines to scarlet prawns, Dover sole to coral trout. 
Have early food experiences growing up in Sydney impacted the way you cook today? 
Absolutely, being exposed to so many different cultures cuisines and people. This has massively impacted on the food I cook today. 
What are you most looking forward to in Sydney? 
It's been a year since I was home last. I'm most looking forward to catching up with family and friends. I'm sure I will find time to visit some of Sydney's amazing restaurants. 
You've been cooking in London since 2003. What do you miss about Australia's food scene? 
The different produce that chefs get to work with that are native and home grown. 
It's been a rocky road for the hospitality industry in recent years. How did you fare? 
Personally, in Restaurant Gordon Ramsay we used the downtime to reset, refocus and implement change. These changes have allowed us to support our team's growth and development more. 
Any advice for chefs who want to spread their wings overseas? 
Don't hold back. Do your research and have fun. 
What advice would you give to your younger self if you could turn back time? 
I would make more me time! 
What ingredient are you obsessed with right now? 
Vinegar. I currently use 15 different types. 
Kitchen weapon of choice? 
A spoon and a good Japanese knife. 
Favourite music to cook to? 
Drum and bass. 
Food you reach for when nobody's looking. 
Chips 'n dip. 
Signature drink? 
A glass of white Burgundy. 
Who do you admire most in the hospitality? 
I admire so many great chefs but of course Gordon the most. His work ethic, desire and drive are second to none.