Meet Australia's freshly minted Bartender of the Year
What does it take to become Australia's Bartender of the Year? Restaurant writer Necia Wilden asks our new national champion Eduardo Conde.
Eduardo Conde's devotion to speed and big flavours is taking him to the global final of Diageo's World Class Bartender of the Year in Brazil this September.
The talented mixologist from Paddington's colourful El Primo Sanchez has already beaten some of Australia's top bartenders, including Alex Gondzioulis (Liquid & Larder, Sydney), Lachlan Gunner (Sourtrap, Adelaide), Andie Bulley (Savile Row, Brisbane) and Rohan Massie (Rude Boy, Hobart).
What does it take to become Australia's bartending champ? Restaurant writer Necia Wilden finds out.
Q: What was the hardest part of the competition?
A: The time challenge; we had to create five drinks in five minutes. Obviously, you have to think very quickly to do that, but it's not just about speed; it's also about mapping out the recipes and drinks in your head and thinking outside the box. The aim is to get maximum flavour from as few movements as possible. It was very exciting.
Q: In the second round, you were tasked with using Don Julio 1942 tequila as the base for a "disruptive" cocktail. What's a disruptive cocktail?
A: For me, it meant using winter citrus – yuzu, mandarin, cumquat – to create a drink that was true to my homeland of Mexico. Don Julio 1942 is a celebratory drink, so I came up with the idea for a liquid version of mole, a celebratory Mexican dish. It gave me a chance to tell a back story about the drink and I think the judges really connected with me on that.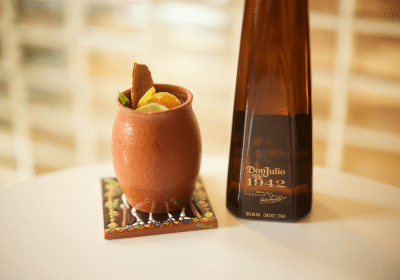 Q: What would you say is your best skill in cocktail-making?
A: I like to think I understand flavours and the importance of seasonality and simplicity.  Yes, you can put a lot of ingredients in a cocktail, but they have to make sense; it has to work. And sometimes, less really is more.
Q: What advice do you have for young aspiring bartenders?
A: If you want to improve your skills, you need to ask questions all the time. There's no easy way to success, no secret recipe; it takes hard work. It's not always easy in the hospo industry. Customers don't always have good days, but you're there to make their days better, to help them have some fun. Because ours is the best job in the world.
Q: How do you plan to prepare for the finals in Brazil in September?
A: Keep working! I think it's important to not lose my cool and to stay match fit. You can always be faster in this job, so I'm lucky to work where I do [at El Primo Sanchez] because we're a very high-volume bar and we make our drinks extremely quickly – I think about the same speed as the time challenge in the finals, actually.
Necia Wilden is a career food journalist who writes about restaurants for the Australian Financial Review. She's also a Series Executive Consultant for Dining at the World's Best, a new global food TV series landing in 2023.