How chefs can help farmers one wild venison dish at a time
Jonas Widjaja bristles at the thought of anything going to waste. But the expat Kiwi has turned his distaste for waste into a thriving wild venison business, utilising an often-wasted resource while protecting native bush and farmland in northern NSW.
Now Widjaja and his business Fair Game Wild Venison supplies restaurants and home cooks around Australia, including the Northern Rivers, Sydney, Brisbane, Canberra Melbourne, Perth and the Gold Coast.
"If wild venison isn't on your menu, you have to ask yourself why," says Widjaja. "It tastes amazing and you're supporting farmers by helping them with a pest.
"Wild deer meat is also an amazing protein because the animals travel for their food, so it's healthy and nutritious. Wild meat is always better for the environment, and the animals."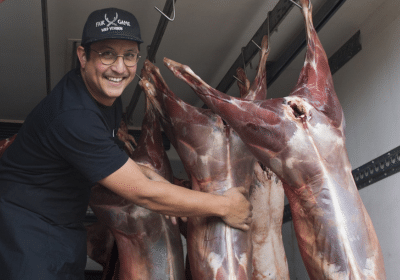 Wild deer is culled by licensed hunters because the invasive pest has a destructive impact on native flora and fauna, along with farming properties, but the carcasses are often left behind and wasted.
Widjaja, 40, grew up hunting and fishing in New Zealand, and was astounded to discover he was unable to donate excess meat to a local soup kitchen after a hunting trip at his new home in regional NSW.
"Waste is something that really gets to me," Widjaja says. "I'll finish off people's plates of food if there's food left on the plate.
"I had this perfectly good venison, but the soup kitchen couldn't take it because it didn't go through a butcher, and the butcher couldn't take it because it didn't go through a proper processing facility, and the processing facility couldn't take it unless you were a licensed shooter.
"It was a ridiculous situation, so I decided to do something about it."
Researching the convoluted legal process faced by wild game harvesters, Widjaja figured out how to get quality wild venison to restaurants and home cooks, and went on to win a Gold Medal at the delicious. produce awards after his first year of trading in 2020.
Widjaja and his wife Mindy run Fair Game on their Northern Rivers property, where they live with their children Luka, 10, and Arlo, 8.
Nothing goes to waste. After processing the venison, Wild Game sells antlers, hides and deer smallgoods to chefs and the general public. Their business has grown a one-man waste-fighting campaign into a national supplier with four employees.
"We built the whole business from second hand materials," Widjaja says. "The whole facility is repurposed, and the structures like the office building and the decking were all milled off old trees that needed to come down on our property.
"We've also planted out the entire property with koala habitat in a project with Conservation Volunteers Australia. There are 2500 trees around the dam, and another 6600 on the rest of the property working with Bangalow Koalas."
Widjaja says he enjoys working with chefs, particularly those running their own businesses who understand the need to move the whole carcass – not just prime cuts.
He says a dressed fallow deer can range in size from 17kg to 40-45kg.
"It's a different kind of business," Widjaja says. "We really focus on value-adding with stuff like sausages to make it accessible to more people.
"But it's great when chefs ask 'what are you trying to move?' and come up with ideas for the less popular cuts.
"They know it's better to serve food that's super ethical and sustainable. Regenerative farming is amazing, but don't forget that not-farming is also an option. This product has no farming inputs, fuel, chemicals, water, medicines. None of that is there. And you can eat it, and still support farmers by helping them with a pest.
"It's getting to that stage where the population is seeking it. The dishes are selling out in restaurants."
Fair Game has several collaborative projects with local restaurants to make terrine and bresaola.
One of the most exciting collaborations is with Brunswick Heads restaurant Cadeau, which is making Fair Game smoked bone marrow butter.
"It's being made in small batches for local markets and a few of our retail stores and there are a couple of restaurants interested in putting it on their menus," Widjaja says. "You don't get as much marrow as beef, and it takes a very long time to get it out. The femur is small and hard, so it takes a huge amount of labour to get that marrow.
"But the flavour is mad. It's really good. It's not going to make us much money, but we can't not do it because it tastes so good in a pasta sauce or a braise. We normally melt it to drizzle over meat or vegetables."
---
Find out more from Fair Game's Jonas Widjaja on stage at The Source Kitchen at Fine Food Australia from 1-1.45pm on 11 September 2023. He will join a discussion on the importance of wild game on menus with Bush River Kitchen's John Rally, Australian Venue Co's Telina Mendez, Zokoko Chocolate's Michelle Morgan and Straight the Source's Tawnya Bahr.
The event is free to attend, but seats at The Source Kitchen are limited. Register free now.