Cooking Oil for the Best in the Business
If there is one ingredient that a commercial kitchen cannot function effectively without—it is cooking oil. No matter what you aim to cook or prepare, cooking oil takes the primary focus in all your kitchen activities.   
Choosing the right type of cooking oil for your commercial kitchen is an imperative decision as it directly affects your finished product. But how do you choose the right one for your business and ensure that you get a steady supply of it?  
Cookers is the first name which comes to mind when talking about bulk cooking oil. With cooking oils no longer than 2 weeks old, freshness is guaranteed when you choose Cookers. Their oils are consistently high in quality, have a longer frying life and do not leave an oily after-taste.  
Cookers Bulk Cooking Oils
With a wide array of varieties, Cookers provides you with an option to choose from Canola Oil, Extra Virgin Olive Oil, Sunflower Oil, Cottonseed Oil or opt for one of their premium oil blends like XLFRY and ULTAFRY based on your culinary needs.  
Being a Certified National Supplier of fresh cooking oil, Cookers have a number of accreditations including ISSC, SQF, BSI HACCP & GMP, ARA, Kosher, Halal & Organic certification under their wing. Renowned for being food safety and specific dietary requirements certified, Cookers specialises in providing tailored cooking oil solutions to suit your business needs.    
Different oils serve different purposes, and it is essential to keep in mind the texture, flavour and smoke point while choosing the right one for your business. In case your kitchen is more inclined towards deep frying, you would want to use an oil with a high smoke point like the Cookers XLFRY, Cottonseed or High Oleic Sunflower Oil which are ideal for tolerating longer durations of high temperatures. 
On the other hand, if you need cooking oil for curries, stir fry, dips, marinades and gravies you should be using a neutral flavoured oil with low smoking point like the Cookers Canola Oil. Alternatively, if your cooking aligns with organic foods, you are better off using specialised organic oils like the Cookers Organic Canola or Organic High Oleic Sunflower Oil. 
However, along with being essential, cooking oil can also be a menace for kitchens if not handled with care. From the hazards of manually handling oil (hot or cold) to the safe disposal of used cooking oil, managing the life cycle of this vital product is something every venue serving food needs to think about. 
With over 22 years of foodservice experience, Cookers is known not just for their wide selection of locally manufactured oils but also their innovative cooking oil management solutions.
Cookers Oil Management System
What exactly is a cooking oil management system? To put it simply, it is a streamlined service that delivers fresh cooking oil for use and also picks up the used cooking oil for recycling.  
Specialising in sustainable cooking oil management, Cookers provides foodservice & industrial businesses with free-loan stainless steel storage units for fresh and used cooking oil in bulk form. With the help of these units and dedicated truck runs, oil management is maintained by Cookers with minimal disruption to your busy venue.   
As pioneers of eco-sustainability within the hospitality industry, Cookers Oil Management System takes care of everything from the first drop in to the last drop out. 
All of their storage units are equipped with an electric pump, a food grade hose, a filler nozzle and heavy-duty castors for ease of movement. Interestingly enough, their units are built to be compatible with the standard 900 mm bench height, offering additional bench space and convenience in the kitchen, especially when space is restrictive.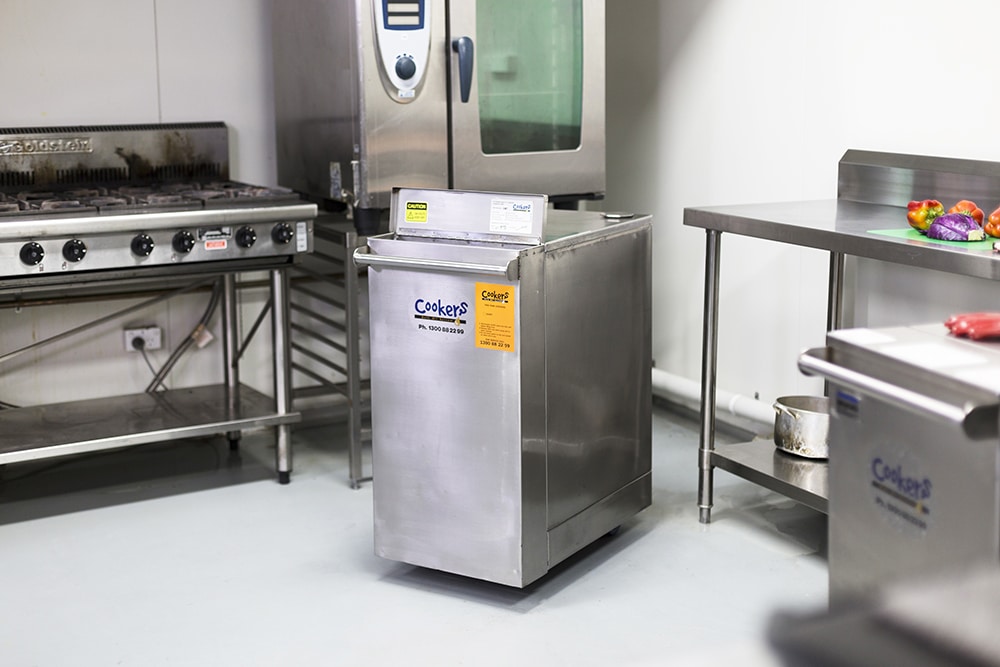 Convenience is key in a bustling commercial kitchen, and the last thing you want is your staff to be preoccupied with changing cooking oils manually. The ease with which Cookers' bespoke fresh oil storage units can fill up your fryer is truly unmatched. All you need to do is roll over the mobile fresh oil storage unit to your fryer and fill it up using their in-built food grade hose and nozzle.  
With an efficient oil management system, Cookers does all the heavy lifting for you. That means no loss of time, no OH&S incidents and always a steady supply of fresh cooking oil.  
Along with providing consistent supply of high quality cooking oils, reliable customer service and best oil management practices; Cookers also helps you do your part towards creating a more sustainable future.  
With their specialised storage units, they not only mitigate the need to use packaging but also reduce residual oil waste ending up in landfills and waterways. Furthermore, Cookers planet friendly model sends used cooking oil to create Biofuel—a cleaner burning fuel that helps lower the world's carbon footprint.  
Trusted by the broader foodservice industry across Australia, Cookers is a reliable bulk cooking oil supplier and its oil management system ensures that your kitchen will never be left in a pinch! 
Cookers will be exhibiting at Stand Y24 at Fine Food Australia in 2022! Be sure to meet the team next month and see their products in action by registering free online here.