Young Chefs Turn up the Heat in National Award
Australia's longest running and most credible culinary competition for young chefs is well and truly back on the radar, with the 2018 Nestlé GOLDEN CHEF'S HAT AWARD regional cook-offs underway across the country.
To date, six two-chef teams have proved they can definitely stand the heat, having their cooking skills recognised in culinary institutions right around Australia.
The current winning teams have secured themselves a trip to Melbourne this September, where they will battle it out in the national final at Fine Food Australia. This year's national champions will be awarded a once in a lifetime culinary trip to Italy.
The first cook-off for this year's competition saw eager young chef-teams step up to the plate, going all out to create their best dishes on the day at TAFE Queensland (Southbank campus) on the 2nd June.
Eve Sheraton and Sammuel Lee, who are no strangers to the competition, put in a strong performance, securing gold medals and the opportunity to represent their home state one more time.
Sammuel says, "The fact that Eve and I work together as a team at The Brisbane Club makes this journey a bit easier I think, we know each other's strengths and weaknesses. I'm looking forward to showing the judges what we are capable of at the finals in September."
While yesterday, Billy Fox and Matthew Wills battled it out against 26 two-chef teams at TAFE NSW (Ryde campus) securing their place in the final.
New to the competition, Matthew Wills says, "This was my first Nestlé Golden Chef's Hat Award and what an experience! We worked really well as a team cooking but the nerves set in waiting for the result. I'm feeling awesome now and can't believe we are in the finals. We are going to give it everything."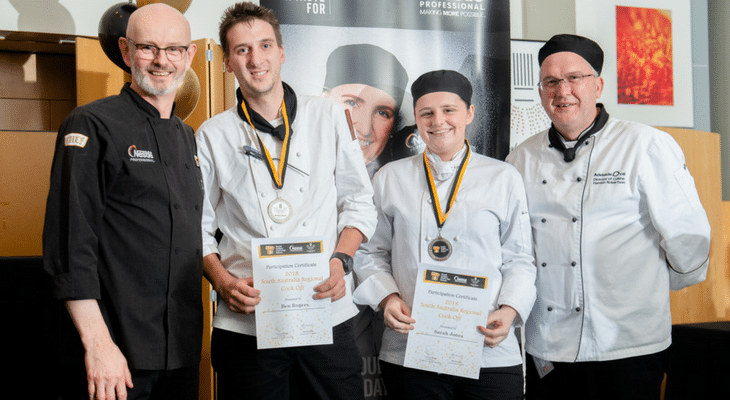 This year's national finalists include some familiar faces as well as new culinary talent; the finalists to date are as follows:
QLD Metro: Eve Sheraton, age 19 and Sammuel Lee 23
QLD Regional: Jayden Osborne, age 17 and Kelvin Anderson age 18
NSW Regional: Liam Gray age 22 and George Mirosevich age 23
WA: Jason Nicholas age 23 and Lara Kirby age 20
SA: Sarah Jones age 18 and Ben Rogers age 23
NSW Metro: Billy Wilkes age 21 and Matthew Wills age 23
Executive Chef at Nestlé Professional, Mark Clayton says, "A successful cook-off is teams that go out there and put 100 percent into what they're doing. It's not always about winning. The Nestlé Golden Chef's Hat Award exists to support the professional development of young chefs and being judged on your culinary skills is critical to this. For me, it's about pushing yourself to become a better chef and committing to your culinary journey."
The Nestlé GOLDEN CHEF'S HAT AWARD offers the next generation of young chef talent a platform to connect with their peers, learn new skills, create amazing dishes, and experience new opportunities to advance their culinary careers.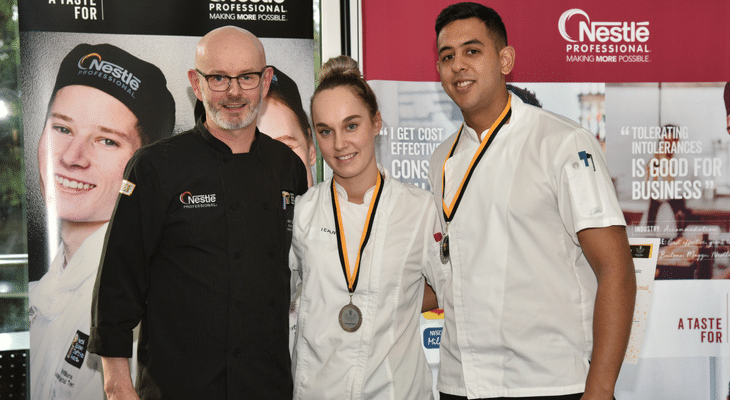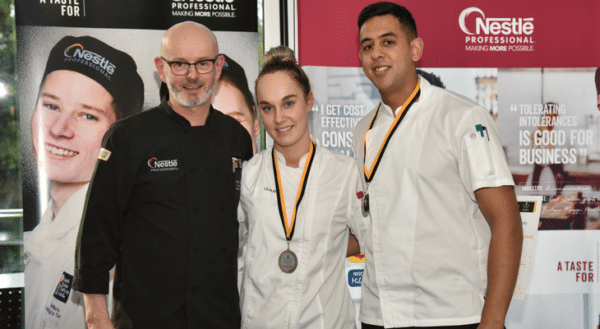 More details at facebook.com/goldenchefs
For more details, please contact:
Gilly Ings                                                       Eileen McCarthy
M: 0433 118 889                                          M: 0438 255411
E: gilly@ingspr.com                                  E: eileen@ingspr.com