Banh Xeo Boom: Building a restaurant around a singular dish
Not many people have heard of banh xeo, so creating a dedicated market stall to the Vietnamese pancake dish was a risk. But after Tania Ho and Ben Sinfield, co-owners of Sydney's Banh Xeo Bar, sold out on their first day at Paddington Market, they haven't looked back.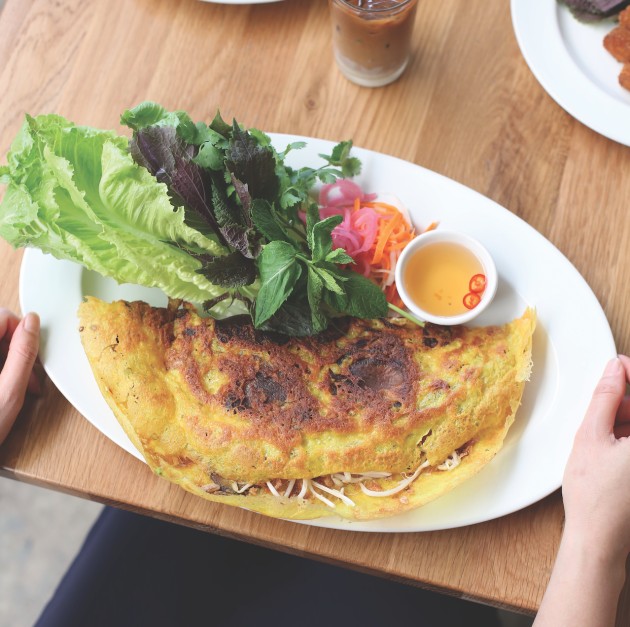 "There wasn't a big plan. It started as an idea, it snowballed, and now we're here." That's both Ben Sinfield and Tania Ho, chef and front-of-house behind Banh Xeo Bar at the Cannery food precinct in Sydney's Rosebery, talking in tandem. The duo, partners in food and life, say they often finish each other's sentences. Together, they have also pulled off the ultimate feat: turning their market stall into a slick bricks-and-mortar operation in just six months.
It might not have been strategic, but after hearing them talk for over an hour as they set up before lunch service, success was more than just the stars aligning.
The couple met in London when they both took jobs at Fergus Henderson's famed offal- and off-cut-driven restaurant, St. John.
"I'm a graphic designer by trade, but have always worked in hospitality on the side," says Ho, who had just arrived from Australia on a working visa. "St. John was the best time of my life. It opened my eyes to different ingredients, treating things with respect, and making perceived 'ugly food' delicious."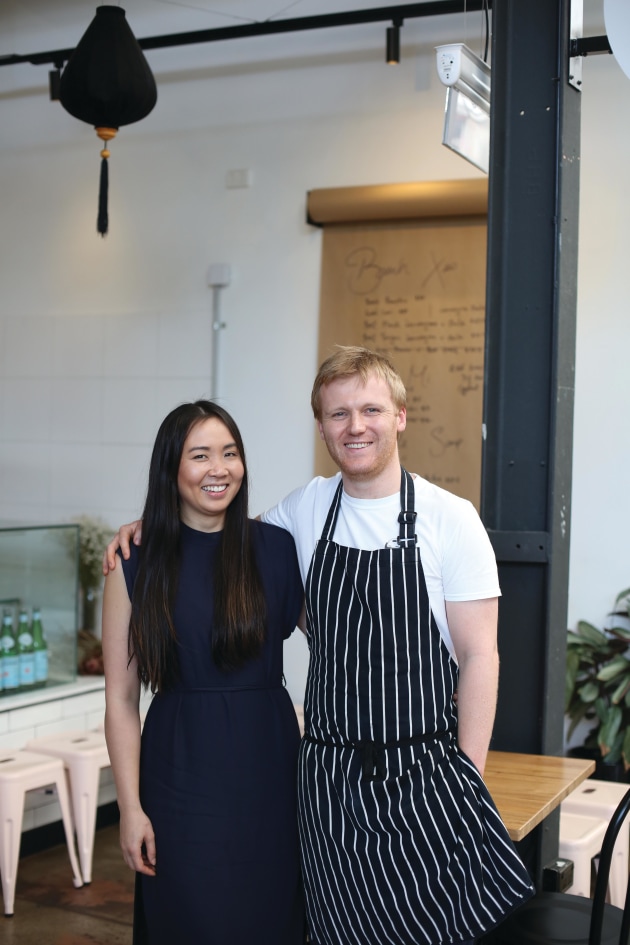 British-born Sinfield mirrors her sentiment. "It's about all the wobbly bits and none of the frills. It's honest and quirky and delicious. It's where I started to actually enjoy cooking." It's also the roots of the food at Banh Xeo Bar, which champions bone marrow, livers, beef tongue, whole fish and pigs' heads.
When Ho's visa was up, she and Sinfield returned to Australia where he landed a coveted role at Ester, while she moved back into design. A year in, restlessness took hold. "I wasn't enjoying work and Ben was putting in so many hours in the kitchen," she says.
So they started toying with the idea of doing something for themselves – something small and manageable that didn't require huge start-up costs or backing. Simple: a market stall.
Ho, the daughter of Vietnamese migrants, was familiar with Vietnamese cuisine on a home-cooking level, and cooked it herself a lot. "Everything [she made] was so fresh and tactile. I'd never had anything like it before," says Sinfield.
Although Vietnamese food is hugely popular in Sydney, so many local restaurants don't go past pho and spring rolls, so that's usually all diners expect. "Banh xeo hasn't hit the radar yet," says Ho. "A lot of people have eaten the pancakes travelling in Vietnam, they just can't remember the name."
Banh xeo translates to "sizzling pancake", as the thin rice-flour batter bubbles as soon as it hits the wok. It's then commonly filled with grilled pork, prawns, bean shoots and mung beans, among other things, before it's folded into a giant, crisp half-moon and served with lettuce, herbs and dipping sauce. While there are many different types of banh xeo from southern to northern Vietnam, these giant pancakes hail from the south, where they were originally made with ingredients that grow in the Mekong Delta rice paddies – rice, lettuce, herbs, and even rice-paddy shrimp, a type of freshwater crustacean.
Ho quit her day job to focus on animating their idea, including branding, certification, sourcing equipment and commissioning a carpenter to build the stall. She spent six months alone refining the pancake batter (incidentally, it hasn't changed since).
"We knew one of us had to give it our full attention," says Ho. "It's very competitive."
Paddington Market, where the couple had their hearts set, is one of Sydney's oldest, boasting a large dedicated following. To put this in perspective, it was also the launching pad for now well-established fashion label Zimmerman.
"Our product is left of centre," says Sinfield, "people don't know what a Vietnamese sizzling pancake is, so we had to express that visually, and get our branding and story on point from the beginning." Paddington Market has a rigorous vetting process, including tasting sessions, which the couple thankfully passed with flying colours.
In March 2017, the first day rolled around … and they sold out. "We were a bit rusty. I put way too much food on each plate" says Sinfield. "But we knew straight away it had great potential."
Ho's mother was helping out on the day making the pancakes, while Ho spent most of the service educating customers on what the hell they were and how to eat them. "I'd have to explain each time: these are gluten-free and dairy-free…" (I interrupt Sinfield to ask: Was this strategic?) "No, it's the traditional approach. We make our batter from scratch with a hard-cooked rice from the Northern Territory, which we soak and then blend with mung beans, turmeric and organic coconut milk," he says. "It was the version we were happy to stand behind and it just so happened to tick those boxes." The Paddington crowd ate it up.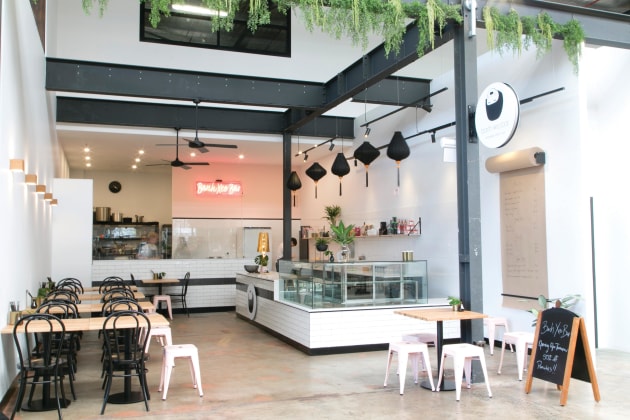 After they settled in, business was booming and the couple were in it full-time. The only downside of the movable feast was no permanent storage space. "We were doing all the prep out of our small apartment and there were fridges everywhere. Our home changed – we even got inspected by health and safety department," says Sinfield.
They started receiving an uncountable number of emails gauging their interest in a bricks-and-mortar space, among which was the Cannery.
Catching the eyes of big-league enterprises is a testament to their product and operation, but Ho says they barely had time to step back and take it all in. They hadn't planned for this and had to make a quick decision. "We weren't sure on the space – the whole venue was a bit empty – but the clincher was existing fixtures in the kitchen and no other Asian in the centre." A blitz renovation and two weeks later, they were open.
They initially planned to use the space as a base for their market operation, "but we only made it back three times. This just took over," says Sinfield.
It's hard to pin down what 'this' is in the bustling Banh Xeo Bar. It has fast-casual elements and a thriving takeaway lunch trade, but you can also sit down and dine on crumbed pig's head nuggets, beef tongue pancakes, and roasted bone marrow with lemongrass and chilli. All in all, Banh Xeo Bar is accessible and streamlined, but also unaffected and gloriously different.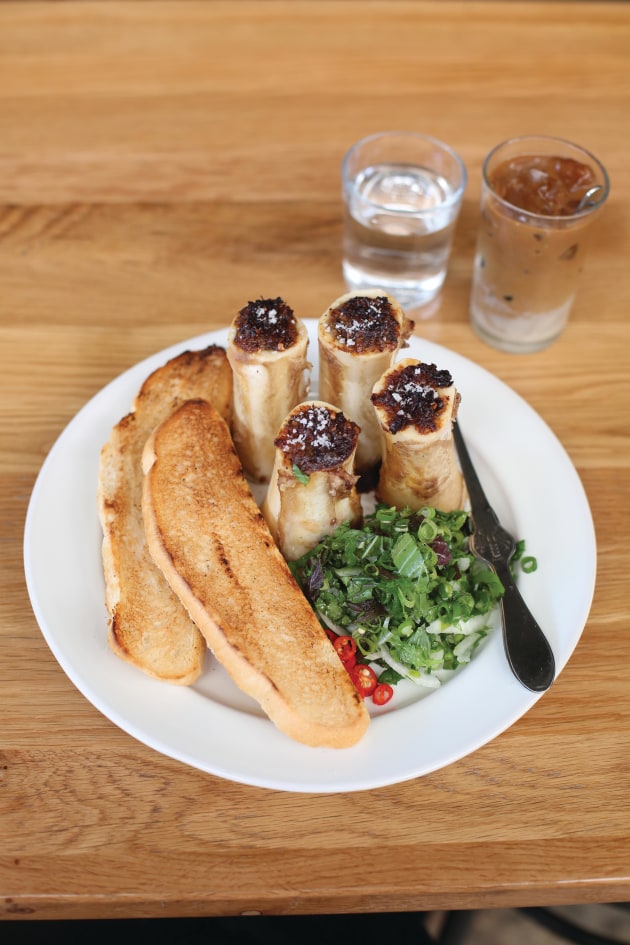 So do they suffer the 'authentic' scourge? "There's a bit of the, 'your banh mi is expensive, I can get one for $5 down the road'," says Ho, but "I just school them in ingredients, like free range chicken-liver pate, and all the things we do to make it taste this good. In the end, they're always won over." Naturally, Ho takes particular pleasure with Vietnamese customers. "They all say it's the best pancake they've ever had," she says.
Now they're just over one year in, and they say business is better than they ever imagined. "It's a lot of work and Ben has been approached by great restaurants, but for us [this] is much more rewarding," says Ho.
For self-described business newbies, they're navigating new waters with skill – the words 'expansion' and 'franchising' have popped up a few times. Now they're taking the time to find their feet before the next step. If history repeats, they'll do something refreshingly unexpected. Stay tuned.
PHOTOGRAPHY: YASMIN NEWMAN
To keep up to date with food industry news and Fine Food Australia updates, subscribe here.