How bakeries are finding the sweet spot for consumers looking for artisan alternatives.
The classic white-sliced supermarket loaf is losing its place on shopping lists. That's because the $3.3 billion baking industry has seen an increase in sales of artisanal bakery products to cafes and restaurants. At the same time, more community interest in health and well-being, along with a greater demand for "quality, freshness and variety", are pushing consumers to seek out artisan and specialty breads. It's a trend that's likely to continue.
It's certainly good news for bakeries, once the heart of our communities, as they regain a foothold.
In Brisbane, baker Lachlan Scott opened a second Flour and Chocolate artisan bakery on the north side last year, seven years after his first in Morningside. They serve upward of 2,500 customers in both stores each week.
"We have been very fortunate," says Scott. "We opened with the tiniest budget imaginable, but we've been very successful and able to continue growing."
Scott says part of that success stems from people looking for better quality food, and a desire to know where it comes from.
"A lot of supermarket bakery goods are imported," he says. "We support local suppliers and use Australian flours and sugar, local milk and Australian and New Zealand butter."
According to Scott, being able to connect directly with customers is a big advantage. "It's a two-way street – a lot of what we create comes from requests from them. We love the interaction and so do they."
Direct to customers
The desire for connection between consumers and producers has also played out well for Aaron Clark of Husk Bakery in Canberra. He recently changed his business model when it looked like the markets in which he sold his products could close due to restrictions.
"I had to find a solution that would allow flexibility for me to continue doing the markets but would allow me to create some revenue should the markets close," he says.
That plan was 'Husk to Home' – a reboot of the traditional home delivery of bread and bakery products.
Clark was fortunate because he was already set up to do mobile deliveries. He says he was "surprised" at how easy it was to get started, with ACT Health fast-tracking his mobile food licence.
"The advantage of being mobile is that we can come direct to customers," he says. "We go where there is demand. Initially it was hard to choose suburbs, but this is where Facebook and local media really helped. We had people reaching out to us via community pages and emails requesting their suburb."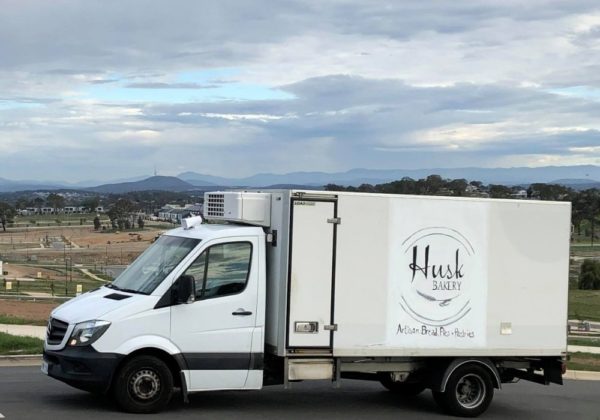 Clark's van has a Mr Whippy-style speaker system playing music to alert people he's in the neighbourhood. The reaction from locals has been tremendous, and he has found it personally rewarding, too.
"There is a lot more interaction one-on-one with customers, you get to learn names and their preferences, and support other community groups in the process."
While consumers may be eating healthier bread, but less of it, it seems all bets are off when it comes to our sweet tooth. Scott's best-sellers are his fruit and custard Danish, while Clark's are raspberry jam and cream croissants, Portuguese tarts and the traditional cinnamon scrolls.
Our continued love of sweets is a trend confirmed by the IBISWorld report. Cakes have remained popular because consumers tend to view them as "inexpensive treats". The market has risen steadily over the last five years.
Search for comfort
Gabi Pahan, of My Bellarine Kitchen in Clifton Springs, Victoria, has seen an upturn in the sales of her sweet treats, too.
"Especially during these uncertain and stressful times, we seek the comfort of something delicious and familiar," she says. "Sitting down with a great piece of cake in the comfort of our home is a welcome respite from all the turbulence outside. It is also a way for people to connect with each other remotely, when physical meetings are not possible."
Pahan says consumers appreciate the handcrafted nature of bakery goods. "I see a lot more artisan bakeries and patisseries opening up with an emphasis on handcrafted, made-from-scratch products using single-origin ingredients that are sourced locally as much as possible," she says.
"Overseas, as well as locally, I see a huge demand for vegan, plant-based and gluten-free desserts, cakes and pastries."People are more ethically aware, they want to know where their food comes from and are making their choices based on this knowledge.
Industry is responding accordingly with more plant-based and gluten-free alternatives in ingredients as well as finished products."
Like Aaron Clark, Pahan has pivoted her business model and now comes directly to the consumer. She offers home delivery, using social media to get the word out.
"I post what I'm baking for the week on my Instagram and Facebook pages, along with a home-delivery service – it's a 'market comes to you' concept."
Pahan also produces a weekly themed dessert box of six individual-serve cakes and desserts, and has a cake menu for whole cakes and other treats. She's tapped into the yearning for travel, cooking up sweet treats from around the world.
"Due to not being allowed to travel, I'm taking inspiration from the desserts of countries from around the world and using them to transport my customers to these places when they sit down to enjoy say a French eclair or Italian tiramisu. I'm inviting them to use their imagination and, through their taste buds, travel to these faraway destinations with me."
Who would say no to some sweet, happy thoughts at the moment?
---
To keep up to date with food industry news and Fine Food Australia updates, subscribe here.