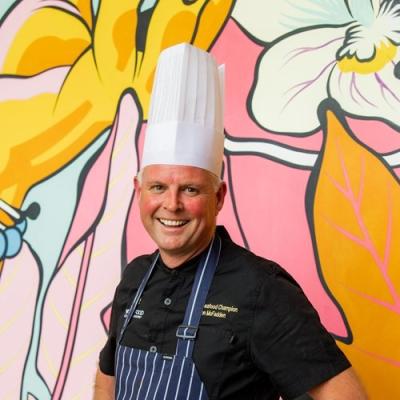 Australian born and trained, John McFadden commenced his career in the kitchen at the age of 12, starting as a humble kitchen hand. He has over thirty years in the food industry and is well recognised for his attention to detail and leading multiple teams and operations.
John commenced his apprenticeship aged 15, at The Lantern Palace Wamberal before completing at La Mer Fine Dining at Peppers on Sea at the age of 19. John moved quickly through the ranks with postings at notable restaurants including the two-hatted Grand Fine Dining Room at The Windsor Hotel, Hayman Island & Xu Bistro at the Hyatt Regency where he won best Hotel Dining Restaurant in Australia.
Along with Carol Selva Raja he was one of the first and youngest Australian chefs to be invited to cook at The James Beard Foundation in New York for 80 New York food critics. Johns last 17 years has been at a Group Executive Chef level overseeing multiple operations and teams nationwide delivering varied food concepts and training programs.
John McFadden is one of the great all-rounders of the hospitality industry. From Fine Dining, Hotels, QSRs, Catering Companies and busy club spaces to helping providores and consulting to suppliers and industry McFadden is a highly-motivated chef whose attention to detail is well-known industry-wide. He is a great communicator, mentor and motivator who loves to share his broad experience with keen apprentices and rising chefs who aim to have the same exacting standards that John holds in high regard.
John has been the National Chairman of Judges for Chef of the Year at Foodservice Australia for the last 11 years, he has also assisted in the judging process for Bocuse d'Or Australia, to select the Australian Culinary team. He was recently invited by the founding Board of Women in Hospitality to be a culinary mentor for their program. John was also approached by Typsy to design and present an Introduction to a kitchen series which is now live to over 100 countries worldwide. John has spent time as a BDM for a fruit and vegetable providore working closely with farmers, growers and understanding the dynamics of getting produce from farms to the kitchen door. He has been the NSW State Business Development Manager for Goodrop Oils which is a local canola producer who manage the entire process form seed to fryer. John developed masterclasses at TAFE to educate our next generation of chefs.
John recently won the Seafood category at The World Food Championships here in Australia. He then moved on to The World Food Championship title in Dallas, Texas, and brought home the World Title beating over 80,000 entries worldwide. John (who competed solo) has just returned from Bentonville, Arkansas in May taking out Final Table and the overall World Food Champion competing against the other 9 category winners and their teams of 3. The first international winner in 10 years since it's been running.
John is also the Brand Ambassador for Yumbah Aquaculture, joining a team of people dedicated to responsible, sustainable aquaculture and investment in innovative and scalable systems. John is still very active within hospitality and is currently the National BDM for Squizify, a digital Food safety and compliance platform.