How 'cheffy' can you get with a hot pie?
For a lesson in extreme culinary precision, look no further than Sydney's Lode Pies & Pastries – possibly Australia's poshest pie shop.
Every sweet and savoury treat on Lode's short menu screams fine dining nous, from the perfectly flaky pastry and premium fillings to the fashionista pink shop fit-out in trendy Surry Hills. 
Lode (pronounced Lo-deh) is co-owned by Federico Zanellato and Lorenzo Librino, the chefs behind Pyrmont's two-hatted Italian-Japanese fine diner LuMi. 
The bakery opened to huge queues in November and has buzzed with hungry customers ever since. Popular items tend to sell out before lunch.  
So, what makes Lode pastry so special? 
First, it looks more like a boutique than a bakery. 
But Lorenzo says success comes down to quality ingredients to get the right flavours and textures.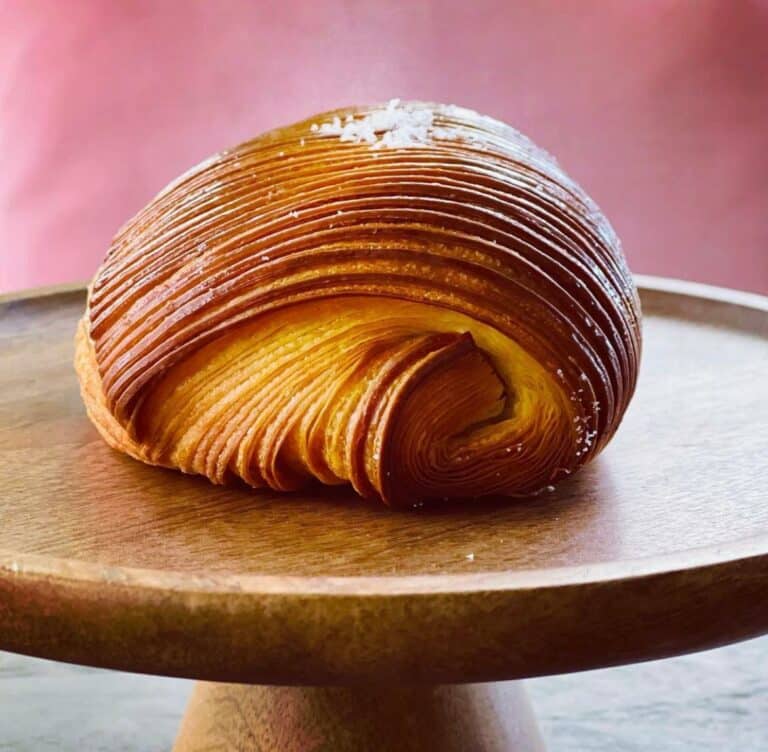 "Too often, people focus on the look of the pastries and forget about the flavour," the 29-year-old chef explains. 
"Flavour is everything to us, not just in the fillings but also in the pastry. For example, most bakers just only use white flour, but we put a small percentage of spelt and rye flours in because they're so flavourful. 
"It's the same with the butter. We use a super high-quality Isigny butter. I often hear bakers say they can get butter for $2 cheaper per kg, but it's no good. A croissant is 30 per cent butter. The most important thing is the butter." 
It was a famously decadent pithivier on LuMi's menu that launched the pie shop idea. 
Both Lorenzo and Federico wanted Lode's pastry to at least match those produced by Melbourne's world-famous Lune Croissanterie. They're also united in their passion for premium ingredients. 
Lorenzo said they spent long hours on research and development before opening Lode, but the results made it worthwhile. 
"We decided to focus on the lamination process, so you're able to see all the beautiful layers," he says. "We started with puff pastry, but we started doing trials and realised the variety would be limited, so we moved to croissants. 
"I don't think people understand the hours and expertise that goes into croissants. The whole process takes three days. We've worked so hard to perfect the details. Precision makes all the difference."  
If you're wondering how the magic happens at Lode, Lorenzo will demonstrate his popular pan au chocolat at Fine Food Australia's Innovation in Patisserie stage on 6 September at 1.30pm. 
"The process would normally take three days, so I'll be bringing some of our dough to show everyone the lamination process," Lorenzo says. 
"It'll be my first time at Fine Food Australia. I'm looking forward to it." 
Register free here to see Lorenzo in action at Fine Food Australia.