Freedom Foods Group's Fine Food Australia 2018 sponsorship
Quote from Rory Macleod:
"Freedom Foods Group is proud to be the platinum sponsor of Fine Food Australia 2018. Our involvement in this prestigious event reflects our commitment to showcase the innovative ways we bring the healthiest food and beverage choices to consumers in Australia and around the world."
Listed on the Australian Stock Exchange, Freedom Foods Group is a global company whose mission is "Making Food Better" with high quality products including dairy and plant-based milks, cereals, snacks and specialty seafood.
Freedom Foods Group's paddock-to-plate approach ensures we have an unrivalled understanding of the sector and what it takes to be number one: from milk processing and grain milling to manufacturing at six state-of-the-art plants in NSW and Victoria.
Freedom Foods Group is dedicated to investing and innovating in the Food Service channel which has led to products such as our new Australia's Own brand multipurpose long life cream and our specialty alternative milks designed to texture and stretch with espresso coffee under Almond Breeze Barista Blend and the MILKLAB range, which have proven incredibly popular amongst the barista and coffee drinking community alike.
Freedom Food Group's journey began in the 1980s and we were a pioneer in the development of "free from" wholesome, tasty foods. We reached a milestone in 2009, building Australia's first dedicated allergen-free plant for the production of cereals and snacks in Leeton, southern New South Wales.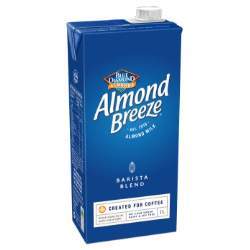 The company has an impressive growth trajectory based on significant investment and expansion at our major facilities in Shepparton/Victoria and Ingleburn/Sydney. We are actively expanding our product range at home and abroad with key markets including China, South East Asia and North America.
Be sure to visit our stands at Fine Food Australia 2018:
Freedom Foods Group & MILKLAB: F36
Freedom Foods Group Export: G39
Almond Breeze: F40
To keep up to date with food industry news and Fine Food Australia updates, subscribe here.