NAFES CFSP Accreditation Course SOLD OUT in 2017 and 2018
With the Certified Food Service Professional (CFSP) program being a sell out in both 2017 and 2018, National Association of Food Equipment Suppliers (NAFES) is now helping the program expand in global reach.
After a sold out CFSP (Certified Food Service Professional) program in 2017 and 2018, NAFES (National Association of Food Equipment Suppliers) will be launching the course in Brisbane in 2019. There will be 4 sessions next year across: Brisbane, Sydney, Melbourne and Auckland.
What is the CFSP accreditation?
The Certified Food Service Professional (CFSP) is a Global professional qualification specifically designed for the foodservice industry. It offers a comprehensive programme that covers all key aspects of the sector.
CFSP is run in Australia and NZ by NAFES – on behalf of the industry
Why enrol?
It enables your company to compete more effectively by having a better qualified team with a wider knowledge base and increased motivation.
Who is it for?
It is particularly aimed at improving the knowledge and expertise of individuals working in sales, purchasing and service within manufacturers, distributors, dealers & wholesalers involved in the supply of foodservice/ hospitality related products & services.
CFSP Dates for 2019
Brisbane – 7 & 8 March
Sydney – 11 & 12 March
Melbourne – 14 & 15 March
Auckland – 18 & 19 March
What are the costs?
NAFES Member
$750 (+GST and Eventbrite fee)
Non-Member
$850 (+GST and Eventbrite fee)
How to enrol?
Go to www.NAFES.com.au
Call Jennifer Wong on +61 2 9884 7100 or email cfsp@nafes.com.au
Places are limited so please enrol ASAP.
Who is the Presenter?
The presenter across all 4 sessions is Doug Fryett. NAFES flies Doug from America to conduct the course. Doug's first published book titled, "An Introduction to the Food Service Industry" is used as the basis for NAFEM's CFSP program.
About the program
Over 350 people have successfully completed the CFSP program in Australia and New Zealand. NAFES CFSP accreditation is awarded to those individuals who successfully pass the NAFES CFSP exam held at the conclusion of each NAFES CFSP Course and who then achieve a minimum of 35 points on the CFSP Evaluation of Experience form. The score is based on an individual's experience, education & involvement in the foodservice industry.
Testimonials
"I would highly recommend the CFSP course to all foodservice industry colleagues. It provides new starters in foodservice an in-depth overview of the industry as a whole with informative and crucial information to arm you for success. It serves as a knowledge base refresher for those of us who have spent a life time in the industry. An indispensable course, thoroughly enjoyable."
Hoss Esmaeilzadeh, Sales Manager
Prestige Products
"I found the course notes and the presentation thoroughly rewarding and I took from the course a tremendous amount of knowledge. I found the course facilitator, Doug Fryett, very informative and compelling. I would recommend the course to any experienced food service professional."
David Barker, Project and Contract Sales
Southern Hospitality
"Having attended my first NAFES course this year, I can confidently say that the course outline and information selected for training over a 2-day period was phenomenal. One never assumes you know "everything" – but after completing the course realized how much I had learnt and confidence I had gained. I particularly noticed this on a project I was working on weeks following the course where information taught had come in very useful."
Belinda Clarke, Food Service Equipment – Sales Consultant
Moffat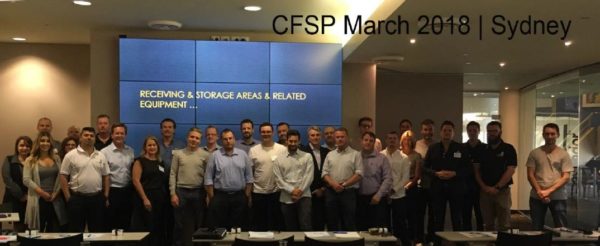 For further information, please contact:
Jennifer Wong
NAFES – Marketing Manager
+61 (02) 9884 7100
marketing@nafes.com.au
To keep up to date with food industry news and Fine Food Australia updates, subscribe here.